General appearance and performance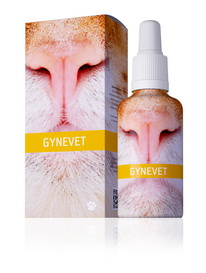 The appearance of the fur
Dry, brittle
-
Omegavet
(it especially provides the necessary unsaturated fatty acids and vitamins A, D and E); it is suitable to internally administer
Gynevet
for the better utilisation of the body's building materials (it positively influences the activity of the enzymes which process fats and it is the concentrate which best influences the quality of the skin and its derivatives).
For a shiny coat
Fytovet
, which provides the essential minerals in a maximally useable form, and
Omegavet
. Once again, it is also possible to strengthen the formation of the fur by administering
Gynevet
.
The impression of a dirty coat, greying
Renovet
, which goes well with
Cytovet
. In older animals in particular, it is advisable to prepare the animal's organism for regeneration with
Renovet
by administering at least a weekly course of
Regavet
.
Shedding
Gynevet
can be generally used for every case of the renewal of fur growth.
Cytovet
is suitable in the case of poisoning, for example with heavy metals, as it binds to all the reactive groups with a chelation bond, as is
Fytovet
, which displaces the toxic elements from the binding sites on proteins and enzymes. In the case of fungal and bacterial illnesses,
Audivet
is useful when eliminating the originator locally. Concentrated
Fytovet
applied locally assists during itching.
The general improvement of the appearance for shows and other events

Gynevet
supplemented with
Fytovet
and
Omegavet
at least 3 weeks in advance (preparation 2 months in advance is more suitable). It is not necessary to use all of the stated products. That is the maximalist version, but it provides the most certain results.
Increased performance
Kingvet
is effective for strengthening the functions of the skeletal and visceral muscles. It regulates the body's metabolism according to the type of training. It improves stamina during stamina training or it improves the growth in muscle volume during strength training. In either case,
Kingvet
is most effective during the training phase, because its effect manifests itself in association with the training. Without training, it has no essential effect on muscles. It is also effective during the regeneration of damaged or tired muscles and it assist in breaking down accumulated lactic acid. It improves the sexual performance of males. It also has this effect in females, but it is necessary to alternate it with
Gynevet
.
Increasing momentary performance and stamina, improving the animal's concentration
Use
Etovet
, which causes the rapid and flawless release of energy for performance, for competitions or for momentary performance. It improves the functioning of the nervous system and stimulates the control centres, i.e. strengthens the effects of feedback and as such the control mechanisms and the ability to concentrate on momentary performance. Neither
Kingvet
nor
Etovet
contain any monitored or banned stimulants. They act against stress.